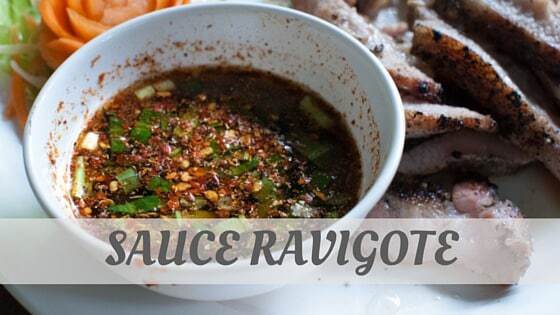 (Rated 4.80/5.00 from 28 ratings.)
Listen To Audio Here
---
How To Say Sauce Ravigote Audio
Quick Overview
'Sauce Ravigote' is a spicy French sauce which may be served hot, or cold. The name 'Ravigote' is derived from the adverb 'ravigotant' which means 'invigorating'.
a cold Ravigote is made with a vinaigrette, with caper, herbs and chopped shallots added
a hot Ravigote is usually made with a Sauce Veloutée, with white wine, vinegar and chopped shallots added
How To Say It
---
Phonetics
sauce ravigote
sauce rah/vee/goht
---
Famous Quotes & Facts
I love a girl that can make me laugh. I am not really a laugh-at-things type of guy and I don't smile and laugh all the time… But if a girl can make me laugh… I'm in love!!!!
— Jesse McCartney
---
Related Words