Listen To Quesadillas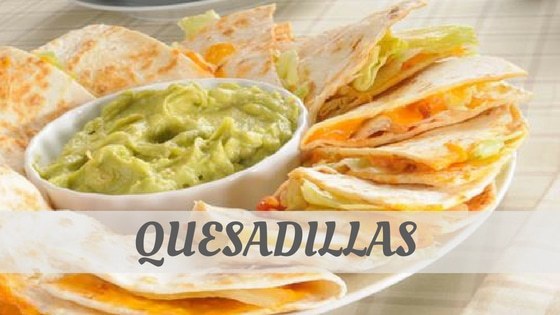 (Rated from 43 ratings)
Pronounce Quesadillas HERE
Quick Overview of Quesadillas
'Quesadillas' is a snack which originated in Mexico. You could loosely translate it as 'little cheesies'. It consists of 2 tortillas filled with cheese and seasonings which is toasted and cut into wedges to serve. Quesadillas found in other parts of South America may be very different.
q

u

esa

d

i

ll

as
keh/sah/

TH

EE/

y

ahs
Listen To It
Quesadillas Syllables & Phonetics
quesadillas
keh/sah/THEE/yahs
Quesadillas Pronunciation
Listen to us saying Quesadillas correctly. It's the perfect Quesadillas pronunciation.
Famous Quotes & Facts
Every dreamer knows that it is entirely possible to be homesick for a place you've never been to, perhaps more homesick than for familiar ground.
— Judith Thurman
Related Words