How To Pronounce '

Parmigiano

'?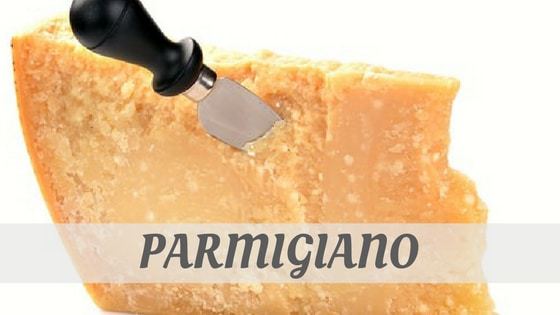 How Do You Say '
Parmigiano

' Audio
Phonetics For Pronouncing '
Parmigiano

'?

parmigiano reggiano
pahr/mee/DJAH/noh rehd/DJAH/noh
Famous Quotes & Facts
Ronald McDonald is "Donald McDonald" in Japan because it makes pronunciation easier for the Japanese. In Singapore he's known as "Uncle McDonald".
A Quick Overview Of
Parmigiano
'Parmigiano' is the Italian word for what we call 'parmesan' cheese. Authentic parmesan is called Parmigiano Reggiano - only cheese made according to strict guidelines in Northern Italy, specifically the areas of Parma, Emilia, Modena, Mantua, Bologna, and Reggio (there is also a region called 'Reggio' in Calabria, which should not be confused with Emilia Romagna) can be called by this name. 'Parmigiano Reggiano' is protected by the Denominazione di Origine Controllata law in Italy - similar cheeses made in other areas or countries cannot be called by this name.
                                             Gourmet Food Store- Gourmet food from the world delivered to your door!
Milk for the cheese must come from free-range cows fed on grass, and the only additive allowed is salt. These rules are strictly enforced, and failure to meet the required standards will mean that the cheese may not legally be called Parmigiano Reggiano. Parmesan is a grainy cheese, and not much different from Grano Padano - the difference lies in quality control. Grano Padano does not have to adhere to the same strict standards of production: for instance, the the cows producing the milk for Grano Padano don't necessarily have to be fed on grass.
There are three categories of ripeness for Parmigiano Reggiano:
Parmigiano Reggiano fresco - 'fresh parmesan', ripened for less than 18 months, very good to eat;
Parmigiano Reggiano vecchio - 'old parmesan', ripened for 18-24 months. This is a little sharper;
Parmigiano Reggiano stravecchio - 'very old parmesan', ripened for 24-36 months.
The older parmesans are especially suited for grating and use over pasta.
Similar Words To Parmigiano