How To Say Mirepoix

Correctly?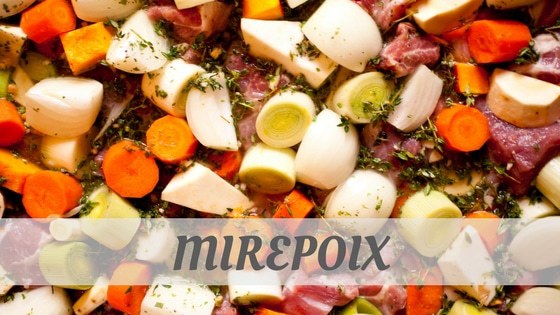 How To Say Mirepoix Audio
Learn 'How To Say Mirepoix'?
How To Say Mirepoix Overview
A 'mirepoix' is a bed of diced braising vegetables created by the cook of the Duc de Lévis-Mirepoix in the 18th century. It consists of diced carrots, onions and celery. Ham or bacon is sometimes added for meat dishes. The mirepoix is used as a braising bed for dishes which need long, slow cooking.
English speakers tend to add in an extra syllable and say mee/reh/pwah, which is not correct.
Terms related to techniques of cutting vegetables:
How To Say It
Famous Quotes & Facts
What's the use of worrying? It never was worth while, So pack up your troubles in your old kit-bag, And smile, smile, smile.
— George Henry Powell
Related Words: