How To Pronounce '

Kromeskie, Kromeskies

'?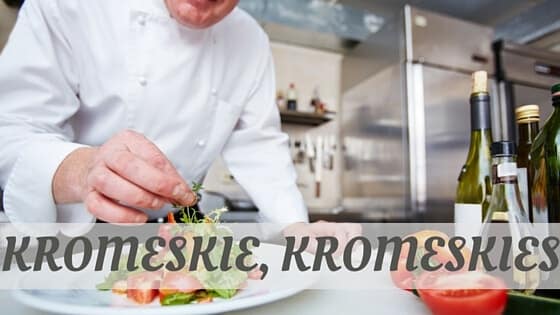 How Do You Say '
Kromeskie, Kromeskies

' Audio
Phonetics For Pronouncing '
Kromeskie, Kromeskies

'?
Famous Quotes & Facts
Ronald McDonald is "Donald McDonald" in Japan because it makes pronunciation easier for the Japanese. In Singapore he's known as "Uncle McDonald".
A Quick Overview Of
Kromeskie, Kromeskies
'Kromeskie, kromeskies' are a type of croquette. Usually they consist of meat, poultry or fish, mixed with a stiff béchamel, and rolled in bacon, battered and fried, or rolled in a thin pancake (crêpe), which may be crumbed and fried. Kromeskies can be sweet or savoury.
Savoury kromeskies are served as an hors d'oeuvre. They are Polish in origin.
Similar Words To Kromeskie, Kromeskies