How To Pronounce '

EyjafjallajöKull

'?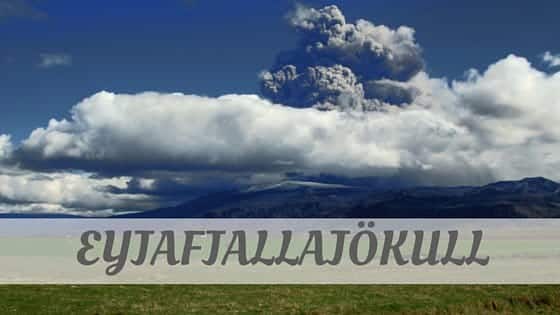 How Do You Say '
EyjafjallajöKull

' Audio
Phonetics For Pronouncing '
EyjafjallajöKull

'?

Eyjafjallajökull
ay/ya/fyatla/yø/kootl
Famous Quotes & Facts
Ronald McDonald is "Donald McDonald" in Japan because it makes pronunciation easier for the Japanese. In Singapore he's known as "Uncle McDonald".
A Quick Overview Of
EyjafjallajöKull
How to pronounce Eyjafjallajökull
The suggested pronunciation is the closest English speakers can come to saying Eyjafjallajökull  phonetically correctly in English.
Icelandic has sounds which do not exist in English, so I've rounded off the 'll' to the closest English sound, which is the only sensible approach. It's easier than it looks. Good Luck! :)
Main things to remember:
'j' sounds like the 'y' in yes;
'll' sounds like the 'tl' in 'kettle' in English.
How To Say It
Eyja

f

j

a

ll

a

j

ö

kull
ay/

y

a/

f

y

a

tl

a/

y

ø

/kootl
Similar Words To EyjafjallajöKull