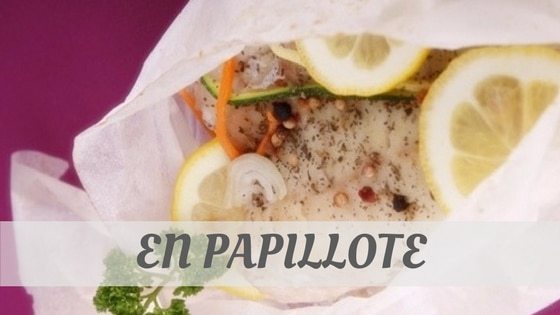 (Rated 4.80/5.00 from 28 ratings.)
Listen To Audio Here
Quick Overview
'Papillote' *(f) is French for a 'parcel'. Food which is cooked 'en papillote' is wrapped in paper, or aluminium foil to retain the flavour. The 'papillote' puffs up during cooking, and the food is usually served before it is unwrapped, in individual portions. This method of cooking is particularly suitable for fish.
'Papillote' is also the name given to the paper frill used to decorate the bone end of chops or drumsticks.
Chocolates and other confectionary wrapped in foil, or other materials, are also referred to as 'en papillote'.
en papi

ll

ote
ah~ pah/pee/

y

oht
---
Phonetics
en papillote
ah~ pah/pee/yoht
---
Famous Quotes & Facts
A simile is just a metaphor with the scaffolding still up.
— James Geary
---
Related Words