Phonetics For Pronouncing 'Chipotle'?
A Quick Overview Of
Chipotle
Chipotle is a Mexican Spanish word which derives from a Nahuatl word which means 'smoked pepper'. Nahuatl falls broadly under the Aztec languages. In the USA, 'chipotle' tends to be highly americanized, with people who pronounce chipotle like tchee:POHT:lay. The Mexican pronunciation is a little different: you say tchee:POT:leh. Many people mispronounce chipotle by saying chee:PO:til. This is not an acceptable pronunciation. Don't use it, it's completely indefensible.
I prefer to pronounce the word closer to the Spanish pronunciation, but once a pronunciation takes off, it sticks whether it's wrong or right. Language evolves, so you have to be flexible with pronunciations. Use whichever pronunciation you feel more comfortable with, and bear in mind that the americanized version has become correct by usage. You can listen to both here:
If you are a pronunciation geek, here's how to say nahuatl, it's nah:wahtl
What is a chipotle pepper and how do you use it?
Chipotle chilis are jalapeño peppers that have been smoked. Unlike regular jalapeños which are picked while green, chipotle peppers are left to ripen on the bush until dark red which are then smoked. They add a rich smokey taste to Mexican, Tex-Mex, and Southwestern recipes.
Chipotle peppers come in different forms. You can buy chipotle powder, the whole pods which often resemble raisins or prunes, chipotle paste, and chipotle en adobo which is used as a marinade for meat.
Hint: Add a little crumbled dried chipotle or chipotle paste to hummous or mayonnaise for a fantastic twist to sandwiches and salads
You can also buy these tangy peppers in jars and cans in a ready made sauce called 
Chipotle en adobo
. It's made with tomato, vinegar, garlic and some herbs and spices which vary. It's great for adding flavour to BBQ marinades and sauces, and it adds zing to braises and stews. Use it wherever you like but be aware, it's potent. You can pronounce
Chipotle en Adobo
as written, but in Spanish the 'd' softens to a 'th' sound, which you can hear on this audio: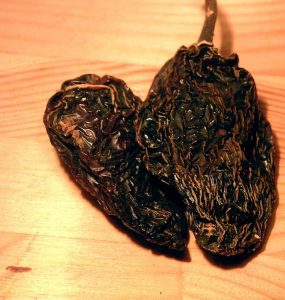 Want to know more about Mexican and Spanish food? Check out this article! Top 5 Mispronounced Spanish Foods
Learn How To Pronounce better!