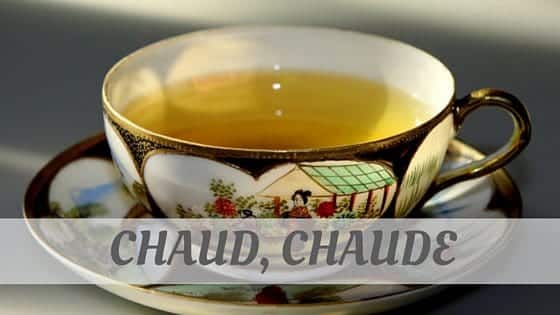 (Rated 4.80/5.00 from 28 ratings.)
Listen To Audio Here
---
How To Say Chaud, Chaude Audio
Quick Overview
'Chaud' *(adj) is the French word for hot. 'Chaude' is the feminine version of the word. Cold is ' froid, froide'.
eau chaude - hot water (eau is a feminine noun)
chocolat chaud - hot chocolate (chocolat is a masculine noun)
How do you say 'hot' in Italian and Spanish?
How To Say It
Chaud,

ch

au

d

e

          
shaw,

sh

aw

d

 
---
Famous Quotes & Facts
Yet all experience is an arch wherethrough Gleams that untraveled world whose margin fades Forever and forever when I move. How dull it is to pause, to make an end, To rust unburnished, not to shine in use! As though to breathe were life!
— Alfred Tennyson
---
Related Words